2008, video, 19 minutes, looped.
Untitled (Shuffle) comes from a larger body of work entitled 'Spinning in my Mother's Garden: a search for subjectivity'. This research looked into the possibility of female subjectivity in a society based in patriarchy. Navigating feminist thought through equality, difference and androgyny and considering the theories of Irigaray, Derrida, Kristeva and others.

Above is a sample from the video Untitled (Shuffle).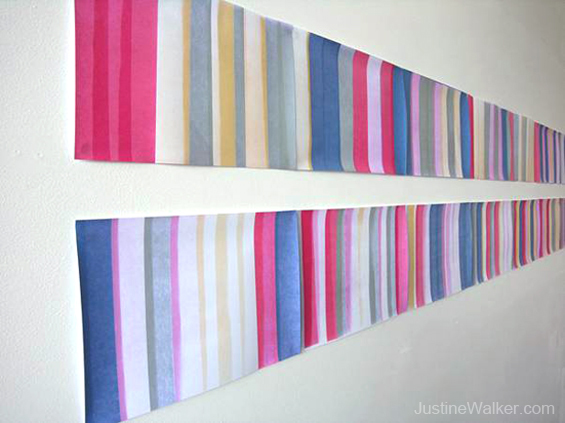 To create Untitled, A4 sheets of coloured paper (blue, red, pink, yellow and green) have been cut into 4cm wide strips of paper. The strips of paper have been shuffled together. Each strip has been placed next to the other, within the shuffled order, on the scanning bed of a photocopier. The lid of the photocopier has been left open so that the light from an adjacent window is able to filter through the paper strips altering the colours within the resulting photocopy depending on the time of day. The next sequence of strips is placed on the scanning bed and the process repeats. The series continues.
Other works from Spinning in my Mother's Garden: a search for subjectivity include Untitled (Drawing), Untitled (Performance), Untitled (Drawing Performance), Untitled (Headstand), Untitled (Bulb), Untitled (Rainbow), Untitled (Landscape), Untitled (Countdown), Untitled (APPLAUSE), Untitled (APPLAUSE #2), Untitled (LAUGH), Untitled (Cross Stitch)
Exhibitions
Is This Enough?, Blue Oyster Art Project Space, Dunedin, New Zealand, 2009
Spinning in my mothers Garden, MFA Graduation Show, Massey University, Wellington, NZ, 2010